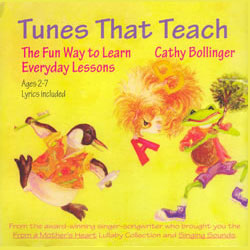 CD Price: $15.98 USD
Tunes That Teach
The Fun Way to Learn Everyday Lessons
What do you get when a gifted musician and skilled music therapist becomes a mother?
Cathy Bollinger's Tunes that Teach-that's what! Indeed, Tunes that Teach allows your kids to learn through wonderful children's music. But the process never feels like work. Instead, Bollinger masterfully weaves rhythm and rhyme with melody and harmony to create sing-a-long songs that do far more than prompt and engage. They delight. Before you know it, your children will be singing the days of the week, exploring the four seasons, marching around to the beat of a phone number and happily chanting things like, "Please may I?" and "Thank you very much," and "May I be excused?" An added bonus is that Cathy's soothing voice makes it enjoyable when your little one asks for it "One more time!"
Little ones will be bopping around to first words like bat, cat, bee, knee, red and bed as well as singing the word, "Loud," well, loudly! Aware of learning on many levels, Bollinger exposes listeners to a plethora of instruments. There's a marimba, a pedal steel guitar, a mandolin, a tuba, a fretless bass, a sax, a trumpet, a kalimba and more. Songs are repeated to allow you to add your own voice to the music provided. Lyrics are included. For magic to happen, just add children.
Makes Great End of Year Teachers Gifts
Tunes That Teach Jukebox
click song titles to hear sound clips
Sorry, you need Flash to see this
"The title speaks for itself; these clever interactive songs teach kids simple but important lessons such as knowing their manners, the seasons and phone numbers, how to make rhymes, and what to do to take care of the earth. Bollinger, a music therapist with an appealing radio-land voice, gives listeners a chance to fill in designated blanks in each song (their own phone numbers, appropriate rhymes, animal sounds and so on). It's best to listen with your child and help with cues the first few times through. Kids will catch on quickly, though and son soon dazzle you with their knowledge about good hygiene and what sounds certain letter combinations make."
—E.H., C. Parenting Today
"Your music is lovely-warm and memorably melodic."
—Mrs. M. B. A., Wilmington DE
"My two girls sing-along with more gusto than we've ever heard. The songs are well done and I think the idea to let the kids fill in the missing lyrics on side two is clever. Great job! We can't wait for the next one."
—Jonathan Hornsby, Co-writer with Bruce Hornsby, Two time Grammy-award winning artist