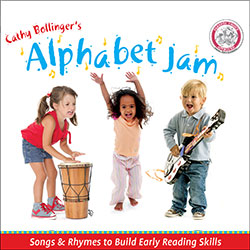 CD Price: $15.98 USD
Alphabet Jam Album Download-Songs Only: $10.98 USD | Buy Now
Alphabet Jam Album Download-Songs + Lyrics: $12.98 USD | Buy Now
Alphabet Jam Parent/Teacher Activity Book (hard copy): $15.98 USD
Bundle: CD + Parent/Teacher Resource Guide (hardcopy): $30.00 USD
Alphabet Jam Parent/Teacher Activity Book (download): $9.98 USD | Buy Now
Alphabet Jam
Songs and Rhymes to Build Early Reading Skills
Parents: Looking for children's music you will love as much as your kids? Order up a serving of Cathy Bollinger's Alphabet Jam! Artfully crafted and performed songs teach your child letter sounds through repetition and sing-alongs. From the first energetic notes, the kids are fully engaged - and 36 delightful tracks later, they'll still be learning and loving it. Whether you listen in the car, or use it at home for interactive play sessions, Alphabet Jam will complement what your child is learning in school!
Teachers: If you seek creative and fun ways to spice up instruction in your classroom, Cathy Bollinger's Alphabet Jam is the main ingredient! Tracks for each letter and a special "Vowel Family" song makes the CD easy to integrate into your lesson plans.

New! Alphabet Jam Parent-Teacher Resource Guide
This 59-page booklet includes:
Individual Letter Sheet, with activities on reverse: consonants, correctly pronounced vowel sounds, and when Y is at the end of a word
Encourages use of multisensory activities for every letter sound, for extending learning
Easy-to-use format that teachers can reproduce for their classroom
View a Sample (pdf)
You can purchase either the hard copy, or purchase and download it now.
Looking for a terrific gift for your child's teacher? How about Alphabet Jam?
Alphabet Jam Jukebox
click song titles to hear sound clips
Sorry, you need Flash to see this
Alphabet Jam is a fun way to familiarize children with the letters of the alphabet and the sounds they make. It is a 36-track cd featuring adults and children singing together with various instruments, introducing each letter of the alphabet with simple but impressive songs. Not only are the letters introduced, but the sounds they make are delightfully taught with songs such as "Ozzie the Optimistic Ostrich" and "David's Dancing Dog." The cd also comes with a valuable resource guide. This 57-page book has a page for each letter's theme song that includes the lyrics, a picture, and space for children to draw a picture. A second page for each letter offers actions and activities to go with the songs. In addition to a song for each letter of the alphabet, there is a little introductory tune for each vowel. The cd also features a special vowel song. This clever song tells of the members of the vowel family, who are not feeling well. (Letter A has a cold and says "A-choo." Letter E has an earache and says "Eh? What did you say?" etc.) Another special song tells about the letter Y and the sounds it makes at both the beginning and the ending of words. With so many songs, you would expect them to all start sounding the same after a while. But instead, each song has its own flair, and my girls are happy to actively listen to the entire cd in one sitting. This is impressive, considering it is almost an hour long. When I asked them to describe the cd in their own words, they called it "fun" and "funny." The songs are clever and fun to listen to, and the sound quality is excellent. Some parents might want to know that the song for the letter "V" is about a vampire. However, the vampire is a little girl who needs to eat more vegetables to make her voice grow stronger. There is nothing remotely dark mentioned anywhere in the song or book. I am generally very careful about these things, and my girls are very sensitive to anything hinting at being scary. However, they didn't bat an eyelash at this song, and I was completely comfortable with it. This CD would be a fun addition to preschool and kindergarten studies. You could use one track at a time as letters are introduced over many weeks. My family loves music. It's an important part of our lives every day. And yet, I'm very leery about purchasing children's music for the simple reason that I know I will be listening to it over and over again. There are some songs you just don't want stuck in your head, popping up at odd moments and refusing to leave. I am happy to report that one of my favorite features of Alphabet Jam is that the songs are catchy without being head-stickers. This is an amazing feature, in my opinion, and I truly appreciate it.
—Jennifer Harrison, The Old Schoolhouse Magazine, LLC
"I thought that Alphabet Jam would be the perfect compliment to our summer program for rising Kindergartners, and I am not surprised by how well it was received! Teachers were impressed with the complex vocabulary children learned while singing and dancing to their favorite songs; children didn't realize how much phonemic awareness they were building."
—Cyndi Wells, Title I Instructional Coordinator, Federal Programs, Albemarle County VA
Cathy Bollinger presents 36 tracks to teach children in a fun way the sounds of all the letters in the alphabet and to build early reading skills. Excellent vocals are performed by Bollinger, several adults, and a number of children. The musicians perform using an impressive variety of musical instruments. "Alphabet Jam" kicks off the album with a boogie-woogie introduction to the alphabet. Then there's a short folk-style song or rhyming chant for each letter of the alphabet, emphasizing the sound that letter makes. There is even a song that differentiates the sound "y" makes at the beginning or end of a word. This album will be very helpful to teach young children the alphabet in preparation for reading.
—Beverly Bixler, San Antonio Public Library, TX for School Library Journal
I was looking for some fun and educational songs that we could both enjoy. I purchased "Toddlin Tunes", "Alphabet Jam", Singing Words and Singing Sounds. I must tell you I have never found such wonderfully constructed children's music anywhere else. Not only are the songs enjoyable, they are educational in a way that I have never seen before with other children's music. I honestly have never seen such a perfect combination of vocal and instrumental excellence, educational and fun lyrics and such a wonderful variety in the sound of each song... Today we were listening to [one of the songs] when I stopped the car at the grocery store (in mid-song), my son began to cry "mo mo" and made the sign for more. My son hates the car seat and usually squeals with delight at the idea of getting out of the car. He liked the song so much, he didn't want it to stop, even if that meant staying in his car seat. He has also been singing/humming the ABC song at random times throughout the day. I know the CD's have helped him learn more of his alphabet. Not only are they helpful for the kids, but I have found myself in tears on more than one occasion just listening to the tender and sweet lyrics of these wonderful songs... Please keep me updated (if possible) on any new albums or any events (in the Dallas,Texas area) if you are ever down this way. We wouldn't want to miss out. Thank you for sharing your talents with our kids.
—Jenny and Charlie B., Dallas TX
Alphabet Jam: Songs and Rhymes to Build Early Reading Skills
"Cathy Bollinger brings her songwriting talents, and experience as a trained musical therapist to the imaginative and informative song-lessons of Alphabet Jam. Each song is fun and easy to remember, while quietly teaching essential reading concepts."
—Lahri Bond, 2006 Parents' Choice
"Whether reinforcing positive social skills or traversing the good old alphabet, Bollinger's easy-going teaching style and participatory arrangements makes learning fun and edutaining."
—John Wood, Kidzmusic.com
Cathy Bollinger's Performance Sparkles in Fun Approach to Learning Alphabet. Singer Cathy Bollinger encourages youngsters to view the alphabet not as a daunting puzzle or dull necessity, but more like an overstuffed toy box. These 36 songs and rhymes (and Bollinger's sparkling performance) bring out the fun in each letter, spurring imaginative play by example. The simple songs are just silly enough to give early learners lots of crunchy fun to sink their teeth into. Each letter of the alphabet is represented. Additional material on this outstanding CD concentrates on vowels—both individually and as a "family"—one selection even covers the special case of the final y.
—Paul Shackman, ALA (American Library Assocation) Booklist Magazine